Our Services
Gas Turbine Overhaul
We provide Inspection of the Hot Gas Path (HGPI), Combustion Inspection (CI) and Major Inspection (MI) of a Gas Turbine along with Generator. We also do provide Bore scope Services, Bearing Inspection, Condition Monitoring and Vibration Analysis, Gas Turbine Balancing, Non Destructive testing and Major Inspection along with AGB & LGB.
We have nearly 30 years of experience in Major Overhauls of turbines unit capacity from 15 MW to 230 MW of GE Frame and Mitsubishi- Hitachi series Turbines. The company has done many gas turbine overhauls for our customers in India, Srilanka, Bangladesh and Oman mainly for Power Utilities and Hydrocarbon Refineries
We have done more than 10+ Major Inspection and 8 HGPI and 15+ Combustion Inspection in the last financial year.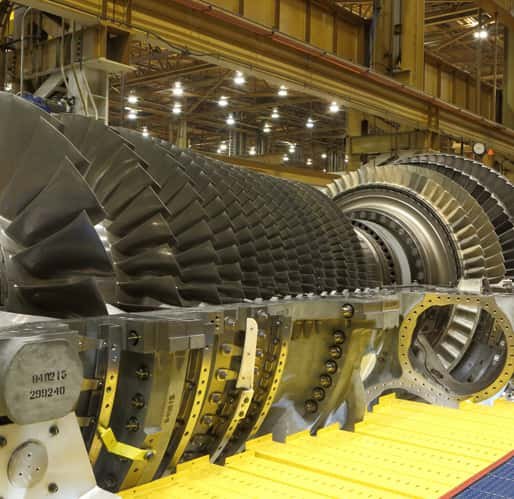 Steam Turbine Overhauls
We offers complete Maintenance and Overhaul for Steam Turbines and its Generator in India. We also provide services between Capital Overhauls, such as Endoscopic Inspections, Vibration Measurements and Bearing Inspection.
We have done Overhauls of GE and MHI make Steam Turbines of unit capacity ranging from 100 MW to 185 MW in India.
Operation & Maintenance
We provide Annual Maintenance to Long-Term Maintenance Contracts across India for Gas based and Coal based Power plants and cogeneration plants. These services are executed under the strict surveillance of our highly skilled professionals with the help of latest tools and machines.
Libin have bagged orders for the:
-Mega Mechanical and Electrical Maintenance of 3x640 MW CCPP
-Mega Operation & Maintenance of Electrical and C&I of Complete 3x800 MW at NTPC Kudgi
-Complete Maintenance (Electrical, Mechanical and Instrumentation) of 1x330 MW CCPP for a period of 15 Years
We have also completed Various maintenance contracts at NTPC Kawas, NTPC Auraiya, RGPPL, Reliance Rosa, NTPC Kayamkulam etc…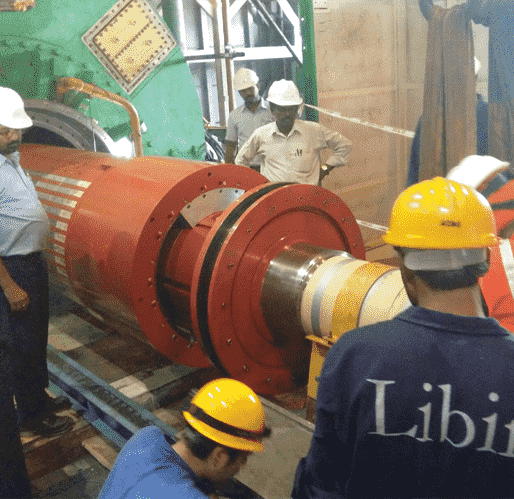 Gas Turbine Relocation
We have extensive experience with relocating transporting and erection of heavy-duty gas turbines. we have all the knowledge how to transport, install and commission gas turbine package including any specific requirement such as civil foundations, mechanical, electrical installation, field wiring and piping or any other site specific equipment such as skid and filter house.
Libin have bagged orders for Dismantling Relocation Erection and Commissioning of 4 x 40 MW Frame 6B Gas Turbine in India from our prestigious client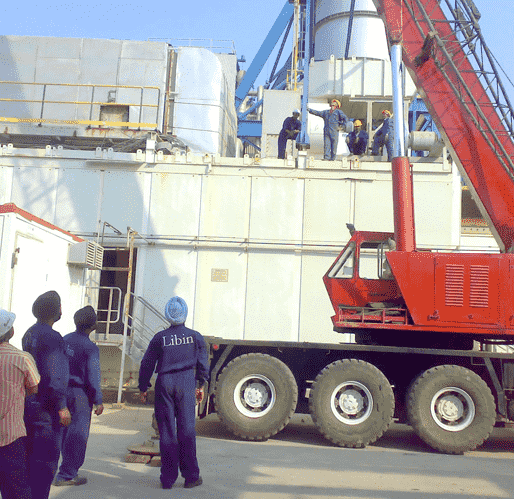 Renovation & Modernisation
We do provide Renovation, Modernization and Life Extension service of Power Plant
Recently we have completed the Renovation and Modernization of 1 x 230 MW MHI make Gas Turbine and Generator Renovation of 4 X 110 MW MHI make Gas Turbine at NTPC Auraiya, Uttar Pradesh.
We have also completed Fuel Conversation Project for Frame 6 Gas Turbine at BPCL Kochi, Kerala.
Gas Turbine Revival Works
Revived Frame 6B Gas Turbine of RGPPL.
Revival of GT 1 at ONGC Petro additions Ltd, Dahej.
Revival of GT 3 at IOCL Panipat Refinery.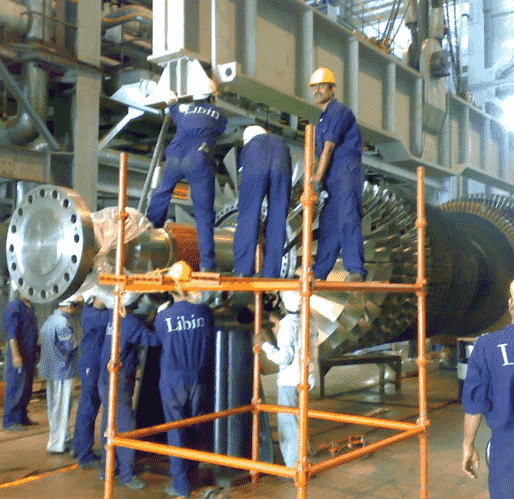 Installation Erection Commissioning
We are offering Erection Commissioning of Gas and Steam based Power Plant in India and Overseas
Erection and Commissioning of Steam Turbine at Reliance Refinery Jamnagar in the year 2004
Erection of 2 x 35 MW Gas Turbine at Reliance Refinery Jamnagar in the year 2005
Erection of 2 x 40 MW Gas Turbine and Generator in the year 2018
Erection and Commissioning of H25 Series MHI make Gas Turbine for IOCL Panipat Refinery in the year 2021
Erection of Frame 6FA 1 x 75 MW at Muscat, Oman for the year 2022
Recently we have bagged order Erection and Commissioning of 2 x 40 MW Gas Turbine and Generator
We have also erected various Structures, Pipelines, and compressors for Konkan LNG Project in the year 2020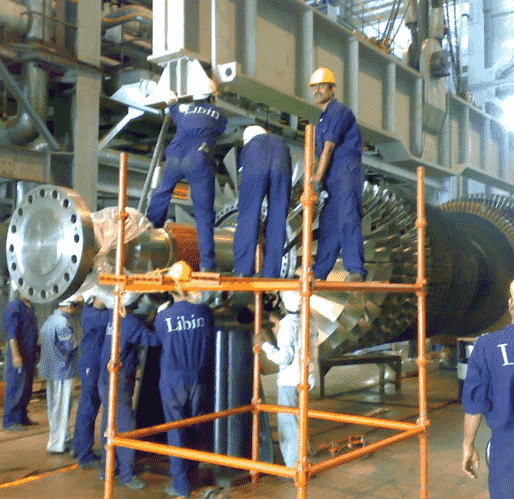 Others
We are also experienced in:
O&M of Solar Power Plants

Minor Civil Works

Man Power Supply for various works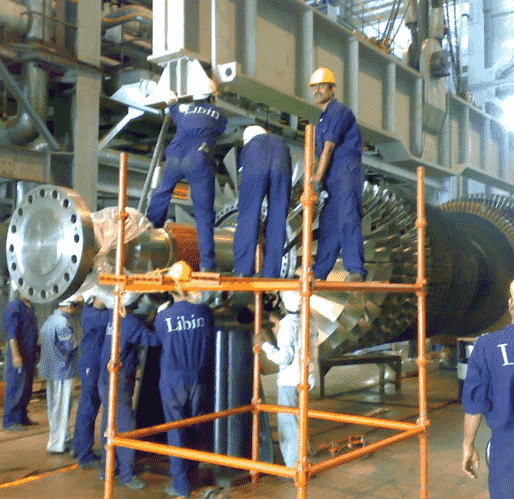 At a Glance
Major Inspection of 12 Nos of GE Frame 9 Gas Turbines 12 X 110 MW in the Asian Region
Capital Overhauling of 185 MW Steam Turbine at Essar Power
Renovation & Modernization of 4 x 110 MW NTPC Auraiya Gas Power plant
Major Inspection of 230 MW GTG and 100 MW STG at a single work order of 5.38 Crores.
H-25 Series Hitachi Mitsubishi Gas Turbine Erection and Commissioning at IOCL Panipat Refinery
Erection of STG and GTG at Reliance Refinery
Erection and Commissioning of Frame 6FA 1 x 75 MW at Muscat, Oman
Relocation Erection and Commissioning of 4 x 40 MW Frame 6 Gas Turbine
Fuel Conversion Project for Fr 5 and Fr 6 GT at BPCL Kochi Refinery
Long Term Operation and Maintenance Contract for Complete ELECTRICAL AND C&I SYSTEMS AT NTPC KUDGI 3 X 800MW UNITS
Long Term Electrical Mechanical Instrumentation Maintenance of BTG and Offsite areas of 1 x 330 MW Gas Power Plant
Long Term Mechanical Maintenance of  Boiler Turbine Generator and Offsite Areas ( BTG ) of   3 x 640 MW Gas Power Plant
Long Term Electrical Maintenance of complete 3 x 640 MW Gas Power Plant
Maintenance of 1.5 MW Solar Power Plant at NTPC Kudgi for the year 2023- 2025
Erection of BOG Compressors and Pipelines at LNG Konkan Ltd, Gail
Major Inspection of 230 MW Generator