We are India's leading Service Provider for Gas Turbine Systems, Steam Turbine and Generators. We started in the year 1991, incorporated into private limited company in the year 2007. We have Overhauled and Maintained nearly about 70,000000+ MW till date. We Undertake Complete Erection, Overhauling and Maintenance of Mechanical, Electrical and Instrumentation Services for Thermal Power Plants and Refineries. We are the OEM approved Regional Service provider for GE Gas Turbine. In the power sector, the Company has executed complete electrical mechanical and instrumentation maintenance of boilers, turbines and generators (BTG) and balance of plant (BOP) for various sizes and scale – starting from subcritical to supercritical units and Ultra-Mega Power Plants with unit capacities ranging from 100MW to 800 MW. The Company engages about 500+ people executing projects over a Pan India Presence and over 3 International Locations.
We are specialized in executing Renovation and modernization, Erection Testing Commissioning Overhauling and Relocation of Gas Turbine Power Plants. We work closely with a wide range of clients from different sectors and regions across globe industries like Reliance Industries, GE, BHEL, Indian Oil Corporation, Mitsubishi Hitachi Power, Sojitz, AES Corporation, EGCB Bangladesh, CPCL Chennai, NTPC, Bharat Petroleum etc. Libin Erectors is one of the main agency for Erection and Overhauling of gas turbine and steam turbine works in India and abroad.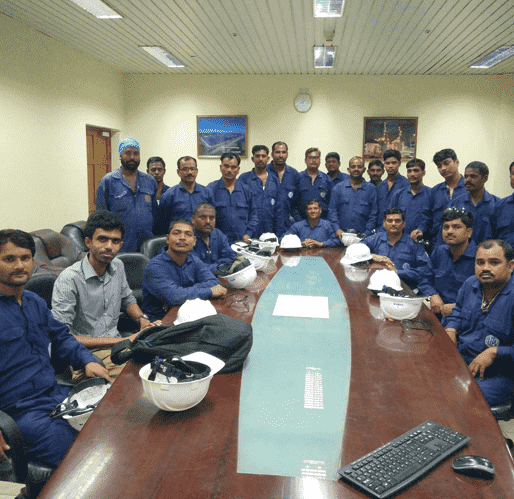 With over 500+ people employed, we strongly believe in the long-term investment and development of our employees. Their knowledge and experience ensures that we maintain the highest skills and quality available to specialized area of the Gas Turbine market. We have established business units in three countries, giving us the opportunity to be closer to our customers and react faster to local market requirements. The Company is equipped to provide service in keeping high standards in quailty, safety and time line We are the member of comply works, a Veriforce company that deals Contractor Safety, Compliance Operator Qualification (OQ), Contractor Health & Safety. We also received many Safety awards for 2 lakh accident free hours. The Company possess A-Class Electrical License to carry out Electrical Works upto 400kV throughout India.
Our Statistics
68256000
Total MV Overhaul / Maintained